2019 Award Recipient: Linda Peyton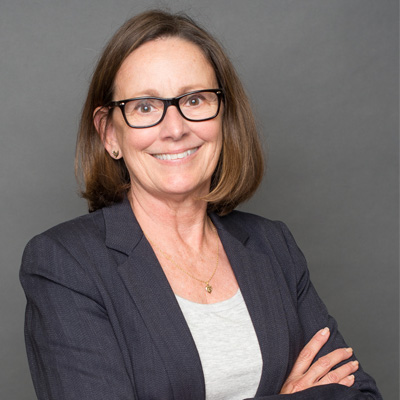 Linda Peyton is the Executive Director at Legal Clinic for the Disabled. Our nonprofit partner Legal Clinic for the Disabled (LCD) provides free legal services to low-income people with physical disabilities and deaf and hard of hearing individuals in the five-county Philadelphia region. LCD's team of in-house attorneys and dedicated core of volunteer attorneys provide advice and advocacy, helping clients overcome legal obstacles that impact their independence, health, and quality of life.
Peyton has had a successful public interest legal career representing low-income clients for the last 36 years. She spent 20 years at the Philadelphia Public Defender Association and since then, has been at LCD. She started as a Staff Attorney and in 2008, she became Executive Director. Throughout her legal career, Peyton has devoted herself to vulnerable and underserved individuals.
When Peyton first joined LCD in 2003, she founded LCD's Anti-Violence Initiative project, which helps bring legal resources to victims of domestic violence. Because of Peyton's leadership, domestic violence continues to be one of LCD's focus areas. Peyton was also a pioneer in establishing the first Medical Legal Partnership (MLP) in Philadelphia, which embedded an LCD attorney in settings serving low-income persons with disabilities and chronic conditions. As part of these MLPs, LCD staff train clinical partners to screen their patients for health-harming legal needs and with the patient's concurrence, the clinical partners introduce them to the LCD attorney who is on site at the hospital or health center. The MLPs have shifted the burden of finding a legal advocate away from the client and instead places a ready advocate in the communities where clients live and receive care.
As a result of Linda's vision, leadership, and effective administration of these MLPs, the Independence Foundation has provided funding for five Independence Public Interest Fellows to work for LCD's Medical Legal Partnerships. The LCD now has five MLPs across 8 hospitals and health centers in the most underserved neighborhoods in Philadelphia. Peyton's initiative has led to tens of thousands of individuals who have now been screened for unmet legal needs and offered otherwise inaccessible legal services.
Peyton has presented on her Medical Legal Partnership work both nationally and internationally. Today, Philadelphia has some of the most robust Medical Legal Partnerships in the country. Since Peyton's tenure at LCD, the organization has grown from a capacity of 247 cases in 2008 to 2358 clients in 2018. Peyton has demonstrated her commitment to recognizing gaps and developing creative solutions to reach low-income individuals, people with disabilities, and victims of abuse in a manner that promotes inclusion, independence, and justice. Peyton exhibits a client-centric approach to lawyering and has used her position and passion to attend to issues that perpetuate injustice. LCD's growth in size and impact are a testament to Peyton's dedication and ingenuity.
"Linda has been the consummate partner, collaborator, and ally in seeking justice for the most vulnerable in our communities. She is not only a keen legal mind and fierce advocate, she is, equally important, a leader you can trust, rely on for transparency and professionalism, someone who cares deeply about relationships and ensuring that all boats (and client communities) rise."
-Karen Buck, Executive Director, SeniorLAW Center
"Linda has truly dedicated her life, professionally and personally, to ensure that all members of our community have equal access to justice. Linda has a never-say-die attitude combined with a keen appreciation for the everyday joys of life. These two attributes make her both a natural leader of people and an enthusiastic champion of ideas."
-Matthew Faranda-Diedrich, Chairman of the Board, Legal Clinic for the Disabled
"Linda is steadfast in her commitment to LCD, its employees, and its clients. She is a humble advocate whose sole motivation is promoting access to justice. The reputation and respect she enjoys within the community are both well-deserved and a testament to her character. Never one to seek accolades for her many accomplishments, she is long overdue for recognition from her peers for her tireless commitment to the Philadelphia public interest community."
-Theresa Brabson, Esq., Legal Director and Duffy Fellow, Legal Clinic for the Disabled
"Before I met Linda and connected with LCD, I was often frustrated by the lack of resources for patients. Now, thanks to the MLP, I can connect families immediately to the critical legal services that they need. Linda Peyton is a passionate advocate for LCD and the clients it serves. Her creativity and leadership around the MLP movement in Philadelphia is but one example of this commitment."
-Daniel R. Taylor, D.O., FAAP, General Pediatrician, St. Christopher's Hospital for Children
"Linda's contributions extend far beyond her own agency. She serves as a mentor and exemplar to many peers in the legal services sector as well as her own staff, helping to build a now thriving community of MLP attorneys working to promote the health and well-being of Philadelphia's most underserved community members."
-Ann Marie Healy, Executive Director, Philadelphia Health Partnership