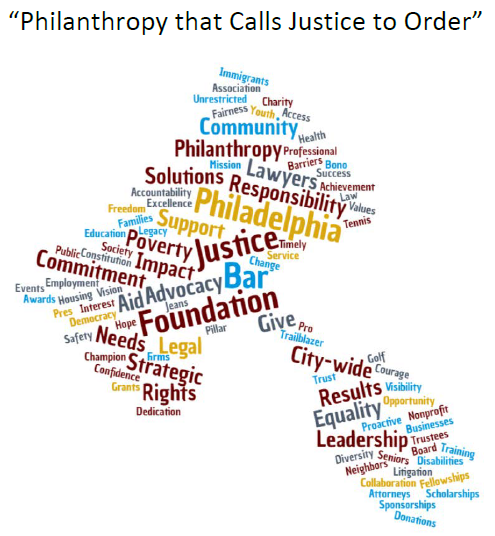 Thank you for your interest in the Philadelphia Bar Foundation and in supporting equal access to justice. The Bar Foundation maximizes the impact of your gift through our grants and other support for the nonprofit legal aid organizations in our community.
Choose to give on a recurring basis, which will appear on your credit card statement.
Give safely and securely through our easy-to-use online portal.
Complete a simple form and mail to our office.
Paycheck Deduction & Employer Matching Options
Ask your payroll or human resources department about these opportunities to give.
United Way Workplace Campaign
If you participate in your company or firm's United Way campaign, you can designate the Bar Foundation as the recipient of your United Way contributions by choosing Donor Option #1578.
Your Donation Matters
The Philadelphia Bar Foundation is in a unique position to ensure your individual donation has maximum impact on access to justice in our community.
Philadelphia has the worst poverty rate of the largest U.S. cities, with over 28% of all residents or more than 430,000 individuals and families living in poverty.
Only 1 in 5 low-income individuals and families in Philadelphian receive legal assistance needed for crucial problems affecting their lives.
Your generous gift to the Bar Foundation will combine with donations from many others to close the access to justice gap in our community.
Nearly 40 nonprofit legal aid organizations receive annual grants and other support from the Bar Foundation, representing the full range of vital services for people in need.
Research shows that every dollar invested in legal aid yields, on average, an $11 benefit for the individual, their family, and the whole community.
When a legal problem is successfully addressed and resolved, both the client and the whole community benefit from the resulting improvement in family stability, safe housing, educational opportunities, needed health care, new or continued employment, increased income for food and clothing, and more.