2020 Award Recipient: Kelly J. Gastley, Esq.
Kelly J. Gastley, Esq., currently serves as the Managing Attorney for Philadelphia VIP, one of the Bar Foundation's nonprofit partners. Gastley has dedicated her 15-year career to public interest work at VIP, securing representation for individuals, families, and organizations in need, including developing VIP's Tangled Title Project to stem the tide of Philadelphia's affordable housing crisis.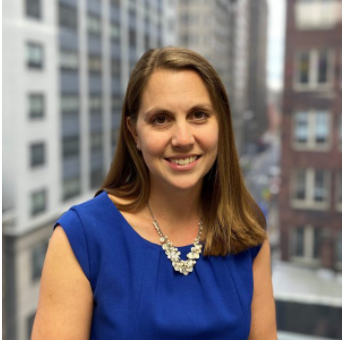 Gastley has spent her whole career with VIP, beginning as an Independence Foundation Public Interest Law Fellow following her law school graduation in 2005. Through a series of promotions, she worked her way up to Managing Attorney, where she leads VIP's legal team in recruiting, training, and supporting hundreds of volunteer attorneys. She has provided extensive Continuing Legal Education (CLE) training, community outreach, client education, and peer organization consulting during her tenure at VIP.
Serving on the City Council Working Group that overhauled Philadelphia's real estate tax collection process for owner-occupants, Gastley also worked on the Philadelphia Bar Association's Fraudulent Conveyance Task Force. She tirelessly advocates with judges, policymakers, and public officials on behalf of homeowners. It is estimated that Gastley has protected thousands of families in Philadelphia from homelessness.
Among legal services colleagues, Gastley is known as the "Tangled Title Queen," referring to her dedication to growing VIP's tangled title practice over the course of her career. Through her initial fellowship at VIP, which focused on tangled title issues, Gastley essentially created and implemented the procedures that continue to control most pro bono tangled title work in Philadelphia. In the years since, she has led VIP's volunteer-based Tangled Title Initiative and designed, and directly administers, the Tangled Title Fund, which provides grants to low-income Philadelphians to cover the costs needed to obtain a clean title.
"Kelly advocates passionately, and empathetically, for clients, staff members, volunteer attorneys, and other interested parties alike. She is a role model for how to navigate differences in expectations, goals, and communication methods/styles that often arise across these groups. While VIP is the agency of last resort for many low-income individuals and families who face critical legal problems that affect their basic needs, Kelly ensures every person seeking assistance from VIP receives an exemplary level of service and compassion." - Rida Haq, Lindsay H. Schoonmaker, & Alex Braden, Philadelphia VIP
"Kelly's entire career has been one of service to others, and she personifies what is best about the legal profession and the commitment to equal justice for all. She has been indefatigable in advocating for more generous policies and procedures that will accommodate the interests of low-income residents of Philadelphia." - Robert Lukens, Community Legal Services, 2018 Philadelphia Bar Foundation Award Recipient
"Kelly is the epitome of the public interest attorney: dedicated, thoughtful, caring and willing to make sacrifices for the betterment of her clientele. Kelly is an absolute pleasure all-around. As a board member and professional friend of Philadelphia VIP, I cannot imagine the organization without her." - Robert S. Tintner, Fox Rothschild LLP