2021 Trailblazer for Justice: William T. Coleman, Jr., Esq.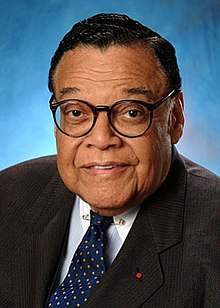 The Philadelphia Bar Foundation is honored to announce William T. Coleman, Jr., Esq. as the 2021 Trailblazer for Justice.
William T. Coleman Jr. was born in the Germantown neighborhood of Philadelphia, and spent his career as an attorney in public and private practice fighting to advance civil rights in the United States.
Mr. Coleman received his undergraduate degree from the University of Pennsylvania and his Juris Doctorate from Harvard Law School, where he became the third black staff member accepted to the Harvard Law Review. Mr. Coleman began his legal career serving as a law clerk for the U.S. Court of Appeals for the Third Circuit, and then went on to be the first black Supreme Court clerk.
After his clerkship, Mr. Coleman wanted to go into private practice, but was repeatedly rejected by white-shoe firms in Philadelphia because of his race. He was eventually accepted by one in New York, and later became a partner at Dilworth, Paxson, Kalish & Levy in Philadelphia, still an all-white firm at the time.
Mr. Coleman was involved in many major civil rights cases before the United States Supreme Court over his legal career, out of nineteen cases argued before the Supreme Court altogether. He authored the legal briefs presented to the court in Brown vs. Board of Education, argued a case that led to the establishment of the constitutionality of racially mixed sexual relations and cohabitation, and successfully argued that segregated private schools should be barred from receiving federal tax exemptions.
Mr. Coleman served as the fourth United States Secretary of Transportation and was the second African-American to serve in the United States Cabinet.
Mr. Coleman was president of the NAACP Legal Defense and Education Fund for a year and chairman for twenty years. He was co-chairman of the White House Conference on Civil Rights in 1966. Mr. Coleman received the Presidential Medal of Freedom from President Bill Clinton. He passed away at 96 in 2017.