2021 Access to Justice Awards Benefit
Tuesday, November 9, 2021 at 5:00 PM
Virtual Event,
Philadelphia
PA
19107
Event Details
Each year, our annual award event celebrates Philadelphia's public interest community, civil legal aid organizations, and the businesses that partner with the Bar Foundation. In 2020, we held the first ever virtual Access to Justice Awards Benefit and it was a great success, thanks to our partners, donors, and sponsors. We promise another engaging experience as we celebrate our honorees in 2021!
You will have a better experience on a desktop computer, but tablet or mobile will also work.
View the event Program Book to learn more about our generous supporters and the outstanding achievements of our 2021 award winners:
The 2021 Access to Justice Awards Benefit is open for all to attend. The event will begin at 5:00 p.m. EST and is scheduled to be about 47 minutes. The program is a one-way livestream, so there is no need to dress up – just show up! During the event, we encourage you to LIVE CHAT with other attendees and Bar Foundation leadership through a chat feature on the event page.
Interested in sponsorship? Thank you! Your 2021 sponsorship of this special event ensures that the Philadelphia Bar Foundation raises funds needed to support our 2021 grants. Businesses that support the legal industry or business community, and those who are simply interested in supporting the Philadelphia public interest community, are invited to participate in event sponsorship. (Law firms, please join us in our Unified Giving campaign!) Historically, our Access to Justice event attracts hundreds of legal professionals in celebration of the public interest community. This annual awards event provides a meaningful opportunity to put your company in front of a robust and engaged audience of legal industry professionals in a mutually beneficial partnership. This year's virtual experience allows us to exceed our normal audience size, and provide marketing opportunities and viewership before, during, and after the event. Please read more about our Sponsorship Opportunities and complete the Sponsorship Form.
Thank you to our generous event sponsors!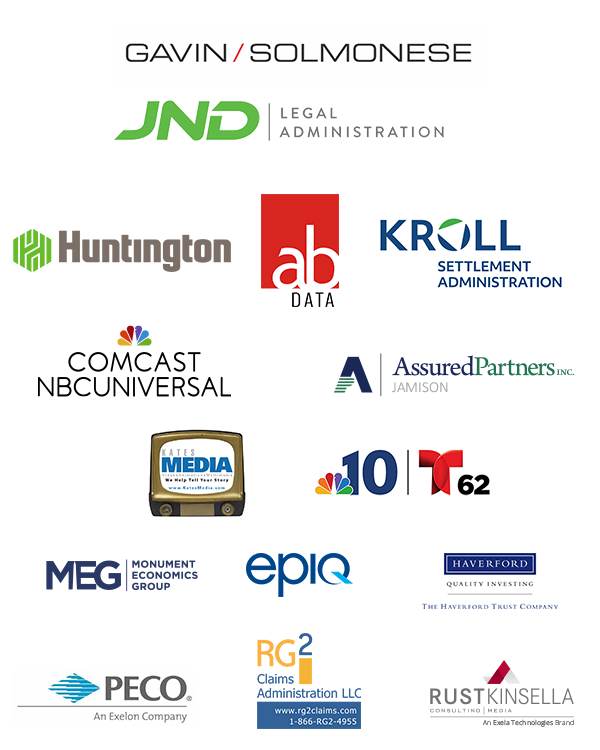 Thank you to our 2021 Unified Giving Partners: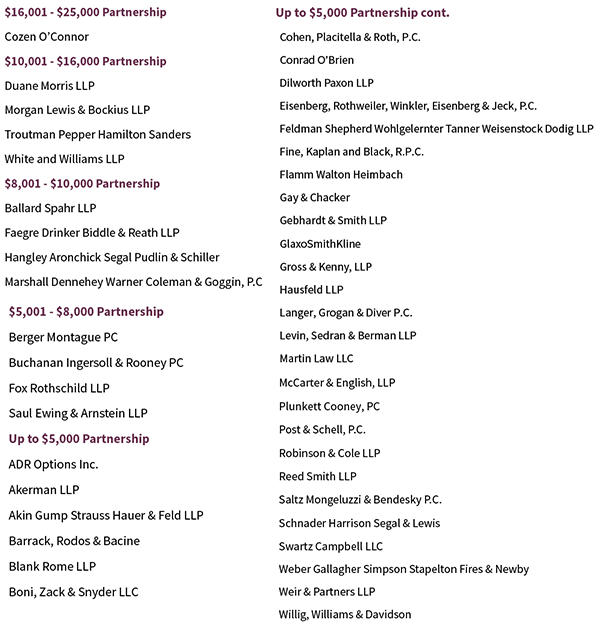 Event Highlights
We are pleased to announce that Nilam A. Sanghvi, Legal Director at the Pennsylvania Innocence Project, is the recipient of our 2021 Philadelphia Bar Foundation Award. This award recognizes public interest attorneys who have dedicated their careers to fighting for equal access to justice. White and Williams LLP will receive the Bar Foundation's 2021 Pro Bono Award, which recognizes law firms and corporate legal departments that perform outstanding volunteer efforts to provide legal services. Finally, we are very excited and honored this year to name the late William T. Coleman, Jr. as our third ever Trailblazer for Justice.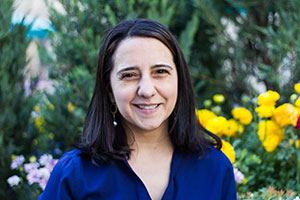 Since joining one of our non-profit partners, the Pennsylvania Innocence Project, eight years ago, Nilam Sanghvi has dedicated her life to promoting access to justice. As Legal Director of the Project Sanghvi has helped exonerate nineteen wrongly convicted Pennsylvanians and obtained relief for several others before the Pennsylvania Board of Probation and Parole and through the Conviction Integrity Unit of the Philadelphia District Attorney's Office. In addition to directing litigation, Sanghvi coordinates and teaches in the Project's clinics at Pennsylvania's eight accredited law schools, runs the organization's internship program, and develops and presents training sessions for private attorneys who partner with the Project. Sanghvi also currently serves on the national Board of the Innocence Network and is a fierce advocate for criminal justice reforms and fair, proper treatment for individuals who have been wrongly convicted and exonerated. Sanghvi served as Trustee of the Bar Foundation for many years, sitting on the Foundation's Executive Committee and the Awards and Programs Committee, co-chairing the Foundation's annual benefit, and co-founding the Foundation's award-winning Board Observer Program. We are proud to honor all of her many accomplishments with this award.

White and Williams LLP has partnered with various civil legal aid organizations in Philadelphia to provide pro bono support for more than three decades. As a supporter of the Philadelphia Bar Association's One Day Pledge, every firm attorney devotes 24 hours annually to pro bono and community service efforts.  And, White and Williams attorneys have a long history of volunteerism with Philadelphia VIP and have taken on more than 100 clients with diverse legal issues.  Collectively, the firm's attorneys have made a tremendous impact through their homeownership and tangled title legal work. That work has allowed a host of needy Philadelphians to stay in their homes. And, in partnership with the Homeless Advocacy Project's (HAP) adopt-a-shelter program, the firm provides compassionate legal assistance to residents of Bethesda Project's Our Brothers' Place, where single men can secure emergency housing.  White and Williams' support and dedication to Our Brothers' Place through bi-monthly clinics has helped make it HAP's most successful long-term legal clinic site. The firm also partners with Support Center for Child Advocates to represent children in abuse and neglect matters, and has been a critical partner to Chubb's Pro Bono Program, assisting Chubb's staff with running SeniorLAW Center's estate planning clinics.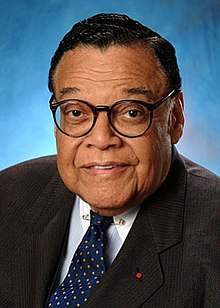 The Philadelphia Bar Foundation specially recognizes and honors William T. Coleman, Jr. as a Trailblazer for Justice, celebrating Coleman's life-long commitment to civil rights. Coleman was born in the Germantown neighborhood of Philadelphia and spent his career as an attorney, judge, and prominent political figure fighting to advance civil rights in the United States. He began his legal career serving as a law clerk for the U.S. Court of Appeals for the Third Circuit and then became the first black Supreme Court clerk. After his clerkship, Coleman wanted to go into private practice but was repeatedly rejected by white-shoe firms in Philadelphia because of his race. He was eventually accepted by a New York firm and later became a partner at Dilworth, Paxson, Kalish & Levy, still an all-white firm at the time of his hire. Three major U.S. Supreme Court civil rights cases distinguish his legal career (out of nineteen cases argued before the Supreme Court altogether): He authored the legal briefs in Brown v. Board of Education of Topeka, argued a case that led to establishing the constitutionality of racially mixed sexual relations and cohabitation, and successfully argued that segregated private schools should be barred from receiving federal tax exemptions. Coleman served as the fourth United States Secretary of Transportation and was the second black man to serve in the United States Cabinet. Coleman was president of the NAACP Legal Defense and Education Fund for a year and chairman for twenty years. He was co-chairman of the White House Conference on Civil Rights in 1966 and received the Presidential Medal of Freedom from President Bill Clinton. Coleman passed away at age 96 in 2017.